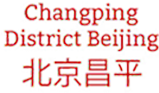 Changping is located where the wind and water start. Mountains make up sixty percent of the geographical area. The mother river of Beijing, the Wenyu River, originates in Changping. Its greenery cover rate is 65.9% and the forest cover rate is 44.1%.
The district has two national forest parks including Dayangshan and Mangshan parks, one hundred miles of beautiful slopes, as well as the Ming Tombs Reservoir, which is known as the natural oxygen bar. Changping District has 2 cultural relics which are Ming Tombs and the Great Wall at Juyongguan Pass listed as the World Cultural Heritage.
There are 9 national and municipal level relic protection units including the pagoda cluster in Yinshan, Heping Temple, Baifu Spring, etc. There are also the eight views in Changping, such as Huyu Bathed in the Brilliant Sunshine, the Great Wall Surrounded by Lush Greenery at the Juyongguan Pass, the Pagoda Cluster in Yinshan and so on.In addition, Xiaotangshan Town is the hometown of hot springs in China.